Closing event of the joint project "StucK" on 22. 08. 2018
On August 22, 2018, the closing event of the joint project StucK("Ensuring the drainage of coastal, urban areas considering the climate change") took place in the conference center at the Department of Environment and Energy in Hamburg.
At the event, the most important project results and their possible applications were presented and discussed with the participants. In our work package we have produced combined ensemble predictions from radar nowcasts and numerical weather forecasts (COSMO-D2-EPS). Furthermore, we have created an operational test warning platform as an extension of the existing warning system "Binnenhochwasser Hamburg" (www.wabiha.de). In addition to the water level measurements, the measured water levels of the respective catchment areas and the improved precipitation forecasts now also flow into the warning status of the individual water levels. Also we have integrated additional radar products into the system to analyze the current precipitation event. The high-resolution precipitation forecasts are passed on to the Technical University of Hamburg for modeling, which calculates effluent ensembles.
In order to continue the successful work, the funding of the StucK project has been extended for another year until 30.09.2019.
The extension phase is about putting the results of the project into practice. In particular, an action plan and management plan for the implementation of dry and temporarily wet flood retention basins shall be developed. These have proven to be beneficial in the StucK project, both in terms of their contribution to flood protection and from an ecological point of view.
Date: 19.09.2018
The 2nd HydroNET LIVE Event took place in Amersfoort, Netherlands

On September 13th, the second edition of the HydroNET LIVE event took place in Amersfoort, the Netherlands. The topic of this biennial event was called "Smart water management without borders". During the event many interesting smart water management case studies were presented and it was an excellent opportunity to meet other water managers from the HydroNET community.
Two masterclasses where specially organised for the international HydroNET community: Showcases of Dutch and international HydroNET implementations to support smart water management. Over 3000 water professionals in 12 countries use HydroNET as decision support tool for the analysis and sustainable management of water resources. In this masterclass more than twelve users and partners from the Netherlands, Australia, South Africa and Germany demonstrated why and how they use HydroNET in their daily practice. They explained how HydroNET helps them to make well-informed and transparent smart water management decisions and why and how they share information with internal and external stakeholders and which boundaries are broken.
Thomas Einfalt and Alexander Strehz from hydro & meteo presented two applications from German HydroNET users. Thomas demonstrated solutions for the quality assurance of precipitation data developed for the State Office for Agriculture, Environment and Rural Areas Schleswig-Holstein (LLUR). In addition, at an information desk Alexander informed about the application "Event Database". This combines a large high quality data pool in high spatial and temporal resolution with easy access to the data via HydroNET. It hus enables, among other things, the simple use of the data for the dimensioning of water management structures.
Date 15.09.2018
Workshop: heavy rainfall and Open data from the German Weather Service (DWD) on 14.06.2018

On 14.6.2018, 35 persons took part in the workshop organized by hydro & meteo on heavy rainfall preparedness and Open Data of the German Weather Service (DWD).
The participants were representatives of municipalities, water boards and the state environment administration of Schleswig-Holstein, North Rhine-Westphalia, Lower Saxony and Berlin.
In addition to lectures on use of the Open Data Portal of the DWD and information on precipitation measurement and forecasts, the workshop also provided a space for a constructive and lively exchange on questions of responsibilities, possibilities and challenges of different actors with the context of heavy rainfall.
Many thanks to the workshop participants and the constructive exchange!
If you are interested in further workshops please contact us.
Date 16.06.2018
On May 16, 2018 Sebastian Luers from hydro & meteo has been certified as a Certified expert flood label to issue the flood label of the HochwasserKompetenzCentrum (HKC) for real estate.
The flood pass is an innovative and useful document for the location analysis and evaluation of existing or planned private and commercial real estate in flood prone areas.
For more information about the flood label, email us "contact at hydrometeo" or visit www.hochwasser-pass.com.
Date 25.05.2018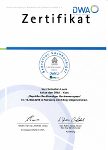 Hydro & meteo in cooperation with scientists of the University of Hamburg participated in a publication about the: Kurzfristige Niederschlagsvorhersagen für die Starkregen- und Hochwasserwarnung veröffentlicht. This contribution presents the results of the project StucK (Long term drainage management of tide-influenced coastal 38 urban areas with consideration of climate change stuck-hh.de), supported by the Bundesministerium für Bildung und Forschung.
The article Ensembles of radar nowcasts and COSMO-DE-EPS for urban flood management was published in the journal of Water Science and Technology.
Authors: Alrun Jasper-Tönnies, Sandra Hellmers, Thomas Einfalt, Alexander Strehz,                 Peter Fröhle
DOI: 10.2166/wst.2018.079
Date 20.04.2018
Workshop: heavy rainfall and DWD open data at hydro & meteo.
Damage caused by heavy rainfall events has become a matter of public interest.
As of the end of last year the German weather service (DWD) is obliged to provide many datasets to the public free of charge.
This represents a large opportunity for cities and small municipalities to improve their flood risk management.
On June 14th hydro & meteo will host a workshop to provide a platform to discuss problems encountered when using the data as well as successful examples of how the data can be used.
Date 26.03.2018
From 10 – 15 September 2017, the 14.IWA / IAHR International Conference on Urban Drainage (ICUD) took place in Prague. On the 14th of September Dr. Thomas Einfalt held a presentation about the project StucK concerning heavy rainfall forecast and warning: Short-term precipitation forecasts for the Flood Warning Service Hamburg. This presentation has been filmed and is available here.
Date 14.09.2017
Hydro & meteo in cooperation with scientists of the University of Innsbruck participated in a publication about the: future heavy rainfall and adjustment to climate change. This contribution presents the results of the project DynAlp (Dynamic Adaption of Urban Water Infrastructure of Sustainable City Development in an Alpine Environment) supported by the Austrian climate- and energy fund. The article Decision Support for Adaptation Planning of Urban Drainage Systems was published in the journal of water resources planning and management.
Authors: Christian Mikovits, Franz Tscheikner-Gratl, Alrun Jasper-Tönnies, Thomas Einfalt, Matthias Huttenlau, Martin Schöpf, Heiko Kinzel, Wolfgang Rauch und Manfred Kleidorfer.
Date 26.09.2017
Since May 2017, hydro & meteo is the official distribution partner of HydroLogic for HydroNET in Germany.
HydroNET is a web portal, where you have access to radar data in real-time. Radar data can be visualized through images or time series, and data can also be downloaded.
Date 05.2017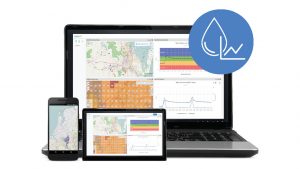 DWD is starting with its open data portal.
Free access to DWD – geodata
The German weather service (DWD) started with its free of charge open data service in August 2017.
Link.
Date 25.07.2017