Contact
hydro & meteo GmbH
Breite Str. 6-8
D-23552 Lübeck, Germany
Tel. ++49-451-702 7334
Fax. ++49-451-702 7339
E-Mail: contact hydrometeo.de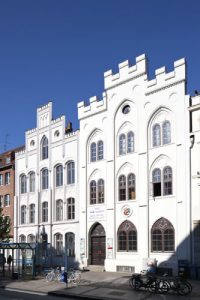 Arriving by car
From motorway A1: Exit Lübeck Zentrum
Please drive towards Zentrum up to the following roundabout. Take the first exit into the street "Bei der Lohmühle". At the next crossroads, please turn left into "Fackenburger Allee". Follow this street until the next roundabout. Here you need to take the third exit towards "Holstentor". Right after the "Holstentor" turn left into street "An der Untertrave" where you can find parking spots.
After leaving your car please walk up the street "Fischergrube" or "Beckergrube" until the end. Our office is located on the left hand side of "Breite Strasse".
Arriving by train
Take the train until Lübeck Hauptbahnhof.
You have the possibility to take a bus from the bus station ZOB or walk for about 25 min. If you choose the bus, the best chance is to take bus line 12 (towards "Normannenweg"), bus line 30 (towards "Gneversdorf") or bus line 40 (towards "Scharbeutz Bahnhof"). Please get off at bus stop "Breite Strasse". Bus time map of the "Stadtverkehr Lübeck". Our office is located at the opposite side of the street at the station.